CALL FOR EXPRESSION OF INTEREST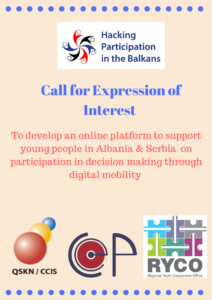 TO DEVELOP AN ONLINE AND E-LEARNING PLATFORM TO SUPPORT YOUNG PEOPLE IN ALBANIA AND SERBIA ON PARTICIPATION IN DECISION MAKING THOUGH DIGITAL MOBILITY
This is a call for procurement of services by individual experts or consultants as a simple assignment. Services are requested for the development of an online and e-learning platform for HPiB project.
Currently CCIS is implementing a project financed by the Regional Youth Cooperation Office (RYCO): "Hacking Participation in the Balkans – Innovative ways of empowering Balkans youth to impact policy making processes" (HPiB). The project is implemented in partnership with Center for Education Policy, Belgrade, Serbia.
The overall aim of the project is to enable Albanian and Serbian youth to impact policy and decision-making processes through active participation and better understanding of national and regional frameworks and foster digital mobility as a long-term cooperation tool among WB6 youth.
In this regard, CCIS is looking to engage an expert to develop an online and e-learning platform to support young people in Albania and in Serbia on participation in decision making through digital mobility.
CCIS Request for Provision of Services (download here)
CCIS Call for Expression of Interest (download here)
CCIS Technical Proposal Submission Form (download here)
CCIS Financial Proposal Submission Form (download here)
All interested experts shall express their interest the latest by 15th October 2018, midnight via electronic means at the following address: [email protected]