Policy discussion on local and regional policies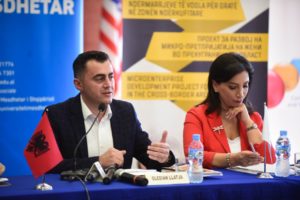 Center for Comparative and International Studies(CCIS) and Mesdheu Center, in cooperation with the Municipality of Elbasan and under the special care of the Mayor of Elbasan Mr. Gledian Llatja, in the framework of the project " Microenterprise development project for women in the cross-border area" supported by IPA Cross-Border Funds of Northern Macedonia and Albania for 2014-2015, has organized a policy discussion on local and regional policies to encourage women in the region of Elbasan to create new ventures and opportunities to support them financially through financial schemes. ( here agenda and invitation)
Mr. Llatja expressed the willingness of the Elbasan Municipality to foster female entrepreneurship, and the municipality is taking concrete steps, starting with gender budgeting.
Part of the discussion was also the member of the Parliament Msr. Evis Kushi, she pointed out Business opportunities for women, Gender equality in business, Advantages of cross border business ideas.
The policy discussion brought together 45 women to discuss the findings and recommendations of the feasibility study conducted in both regions, and to open all possible issue around legislation, policies and by-laws as well as subsidies and measures undertaken to support the micro-enterprise development of women.
Active participation and discussion among participants was encouraged, especially in terms of exchanging personal experiences related to actual policies in improving the climate to do business in Albania
Invitation Policy discussion in Elbasan 16.10.2019. (Click Here)
Agenda Policy discussion in Elbasan 16.10.2019 (Click Here)