Mentoring session on legal support for women entrepreneurs in Elbasan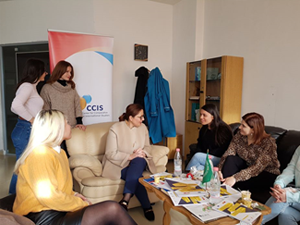 micro enterprice development project for women in crosboarder area  is offering expert mentoring to women entrepreneurs, to help them keep their new businesses going during their first, very challenging years. Each entrepreneur was matched with a suitable mentor (considering location, business type, etc.) and met her each month for three months in a row. .A clear outline of the goals and objectives was agreed between both parties to ensure that the best results could be achieved. Mentors have personal experience of owning and managing a small or medium-sized business successfully for at least five years, be aware of specific challenges that women entrepreneurs face (e.g. in starting a business, accessing finance, networking and balancing family and business), or experts that have experience in legal issues, or ICT, or Communication etc They undertook to share their knowledge and know-how with their mentees and be available to meet them regularly.
Our legal mentor is Ms.Dhurata Çupi, a senior expert in legal issues regarding local legal support to business, and especially supporting women entrepreneurship.