Mentoring session: Labor law and income opportunities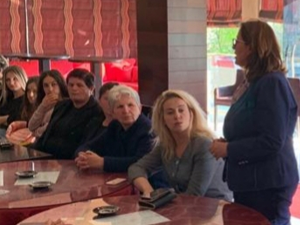 Providing access to employment and better income opportunities are among the most effective ways to empower women. Yet, little has been done in Albania to address a persistent gender pay gap or improve women's access to the labour market, entrepreneurship services and credit.
Women's average salary is almost 18 per cent lower than men's in urban areas and doubly lower in rural areas. Women are over-represented in Albania's informal economy and as unpaid family workers in businesses and on farms. Over 50 per cent of Albanian women work in agriculture – 87 per cent of them in unpaid family jobs – and rural women are not covered by basic social, pension and health services.
Few women own or manage companies or sit on company boards. Women own or manage only 28.5 per cent of all enterprises, many of which are under-capitalised small and medium enterprises in highly informal lower value-added sectors. Only 27.9 per cent of company board members are women; over 43 per cent of companies have no women on their board.
Our mentor: Dhurata Cupi