Mentoring session in Elbasan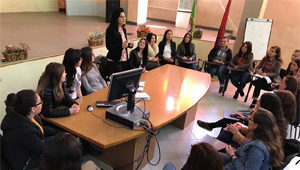 Mentorship is considered a critical foundational component for building a successful startup. Great product/service for a searing pain point and good market traction are good, but a great mentor is equally important to sustain and grow these elements.
Center for Comparative and International Studies and Mesdheu Center has started mentor sessions in Elbasan for 35 women that started to develop an idea by being part of the intensive training sessions implemented by the EU supported project,  IPA CBC Macedonia –Albania project "Development of micro-enterprises of women in the cross-border area "
One of our mentors Dr. Elsa Gega, conducted a full day mentoring sessions with the young women from Elbasan and provided us with great insights from the mentoring process.
She provided generic advice to each of them and helped them to go through the process of entrepreneurship and be successful at it. She leverage her connections to bring in extended network effects that can provide the Elbasan women with early customer trials, strategic engagements, potential customers, interested investors and many more.
The feedback from the young women on mentoring sessions was really good. The project gave them the possibility to have great mentor.
Our great startup mentors will help the young women of Elbasan to find great solutions for the problems faced by startup—whether it be funding, technology, market access or organisation culture; build solutions to these problems creatively and efficiently, and bring forth his experiential knowledge to tackle similar situations; will also help look beyond the daily operational and tactical issues faced by startup and help build a grander vision for it. Our mentors will help them look at the evolving technology trends and changing market dynamics, help them build alternative revenue streams, and scale and solidify the position in the market.
Our mentoring sessions will continue…