Mentoring session: ICT skills for women entrepreneurs in Elbasan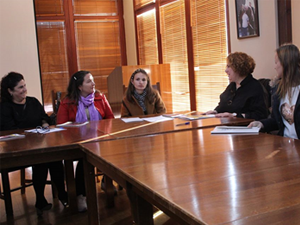 There is ample evidence about the potential of information and communication technologies (ICTs) such as mobile phones, computers, and the internet to support economic growth. ICT use by micro and small enterprises has led to improvements
not only in business performance but also in living condition. ICT can be included as a component of public sector management, finance, private sector development, education, social protection, infrastructure (i.e., transport, water, energy, etc.), and agriculture interventions to leverage greater benefits for women. It would thus be useful to gain a better understanding of gender differences in access and use, and of how these tools could be best used to promote women's entrepreneurship and enhance economic activity.
ICT is a fast-changing area that can provide new opportunities to catalyze women's economic development.
Mentoring session with our mentor Teuta Xhindi