Joint training in Struga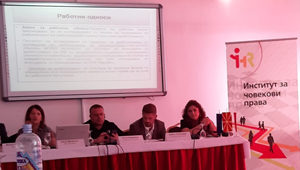 Institute of Human Rights in North Macedonia and CCIS, organized a Joint training in Struga with women entrepreneurs from Elbasan and Polog  about legal framework on Labor and the Rights and Obligations of the Employer and the Employee; Contents of the employment contract, with legal experts from Albania and North Macedonia.
This service is becoming available on regular base for women target group part of the project  in both site of the cross border area in the framework of the project " Microenterprise development project for women in the cross-border area" supported by IPA Cross-Border Funds of Northern Macedonia and Albania for 2014-2015 and leader from CCM.
Women entrepreneurship is at a similar level of development in the targeted cross-border region – Polog and Elbasan. Every successful start, diversification or developments of the business requires following numerous legislative procedures whose steps can become burden or uncertainty to the entrepreneur. In that regard the legislative advice can have significant contribution to the performance of the business, its legal certainty and protection since businesses have to deal with ever-increasing legislation and regulatory requirements. The legal aspects of doing business affect not only the women entrepreneurs but as well their customers, employees, suppliers, banks etc. and can potentially cover all different topic for two of the target groups.
Saturday, 19 -20 October 2019 – Hotel DRIM- Struga