CCIS at RYCO Pilot Capacity Building Training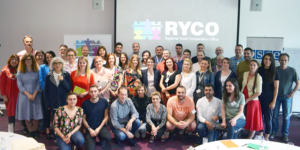 Erida Curraj, our Project Coordinator, attended RYCO's Pilot Capacity Building Training in Podgorica together with the representatives of 34 civil society organizations and high schools from the region, the lead applicants of the shortlisted project within the first RYCO Open Call.
The main aims of the training were to create a common understanding and common ground among the participants regarding RYCO in general, and more specifically, regarding the values of RYCO and the quality of the future projects. Moreover, the training aimed to live together an intercultural exchange and to enhance contact and exchange among the participants as project organizers and between them and RYCO and its representatives, but also to identify and to address key challenges for the organization of youth exchange in the Western Balkans and to jointly discuss approaches to deal with these challenges in order to ensure the quality of the future RYCO-projects.
Read more: https://www.rycowb.org/?p=4663